PRODUCT NEWS
Turkey's TB2 drone sets new record by completing 300,000-hour flight time
Turkey's globally lauded TB2 drone has become the first domestically-produced aerial vehicle in the country's aviation history to reach 300,000 hours of flight time
News Service

22 FEBRUARY 2021, 01:34

Yeni Şafak
Turkey's indigenous unmanned aerial vehicle (UAV) Bayraktar TB-2 has completed 300,000 hours of operational flight hours, reaching a milestone as the first domestically-produced aerial vehicle to achieve such a feat in the country's aviation history.
"Developed by Turkish engineers and technicians, our national and distinctive Bayraktar TB2 armed UAVs, have surpassed 300,000 flight hours in the sky," the country's leading unmanned aerial platform developer Baykar said on Twitter.
Türk mühendis ve teknisyenleri tarafından geliştirilen milli ve özgün #BayraktarTB2 SİHA'larımız gökyüzünde 3️⃣0️⃣0️⃣.0️⃣0️⃣0️⃣ saat uçuşu geride bıraktı.

Her daim milletin emrinde, nice yüz binlerce saate... #MilliTeknolojiHamlesi ✈️🚀🇹🇷 pic.twitter.com/0RkqiwZTsc

— BAYKAR (@Baykar_Savunma) February 22, 2021
The globally lauded TB2 drone, 93 percent of which is locally produced, is a tactical unmanned aerial vehicle capable of conducting intelligence, surveillance and reconnaissance, as well as armed attack missions, according to the company's website.
Developed and manufactured by Turkish defense company Baykar Technologies, the drones have played a crucial role in the Azerbaijani Army's victory in Karabakh and Turkey's fight against the PKK terrorism.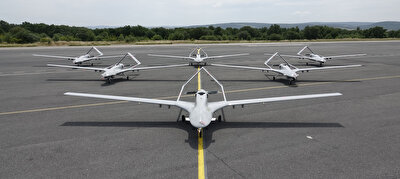 Since 2014, TB2 drones have successfully carried out missions for the Turkish Armed Forces, gendarmerie and police.
The indigenous UAVs were most recently credited for Azerbaijan's military success in the Karabakh conflict, and had successfully carried out missions in Syria and Libya.
Turkish technology and industry minister, Mustafa Varank, said in mid-January that the country's defense exports rose from $340 million in 2005 to $3 billion last year. The Bayraktar drones have been exported to Ukraine, Qatar, and Azerbaijan so far.
TB2

drone

Turkey

Bayraktar

UAV

flight time